Rafting Participation Requirements
Whitewater rafting requires moderate physical exertion and exposure to the elements. Some risks associated with whitewater rafting are impossible to eliminate. We take all of the necessary steps to minimize these risks. It's important that our guests understand these risks. You'll find our rafting participation requirements below.
Health & Safety Participation Requirements
Our guests must be able to understand written and/or oral information regarding health and safety. Rafters must follow instructions and guidelines given by staff members. Guests must exercise good judgement during the course of the trip. Good judgement extends to guests as well as their minor children.

We require our quests to disclose pertinent health, medical, or personal information. This assures our guests' health and safety. It also assures the safety of fellow guests and staff

.
Equipment Participation Requirements
Our guests must be able to properly fit into our life vests. Youth vests are rated for a minimum weight of 30 lbs. The largest life vests are rated to fit up to a 58″ chest. Guests are required to attain a proper fitting life vest.

Our guests must prepare themselves and minor children for their trip. All guests should wear proper apparel and have all necessary personal items for the trip.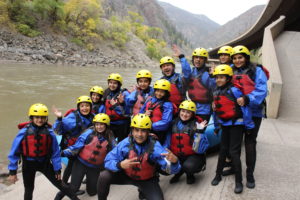 Physical Ability
We require our guest to be able to ride/sit upright in a raft for up to (or longer than) three hours at a time. Guests must also be able to hold and use a paddle. Paddling trips require repetitive motion and moderate physical exertion over short periods of time.

We require our guest to be able to negotiate rocky and/or uneven ground at launch locations. These locations can be encountered while in and around camp. Some examples are during stops for lunch, optional hikes, bathroom breaks and during portages. Guests must be able to enter and exit the raft.

All guests must be comfortable in the water while wearing a personal floatation device. Guests must be able to make progress toward a raft or shore if they fall out of the raft.
Code of Conduct
Adventure Outdoors LLC (dba CRA) reserve the unilateral right to dismiss participants at any time. Staff members can preclude a guest's participation in any activity. All guests must follow written and spoken instructions.
CRA makes any reasonable accommodations to include guests who may have difficulties with our requirements. Many of the requirements listed above can be met with the extra assistance. We make our trips accessible to the widest range of participants possible. Please call us if you have questions about our requirements.