Plan A Private Rafting Trip
Elevate your travel experience with a private rafting trip created just for you and your party. We will work with you to design a memorable rafting adventure to match your preferences. We customize your trip based on your interests, unique requests or milestone celebrations. No request is too small or far-reaching. If you dream it, CRA can make it happen and make it special.
We design once-in-a-lifetime whitewater rafting Adventures for individuals who appreciate the benefit of a private experience. Private rafting trips are perfect for meaningful time with your loved ones or to reconnect with yourself.  We design journeys for those who wish to rediscover, reconnect and take part in something bigger. Above all, we take you on Adventures that show you an intimate river adventure experience .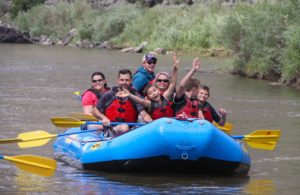 Rafting is a fantastic way to connect with Colorado's amazing wilderness.  Avoid the crowds of our daily adventures and enjoy whitewater rafting on your own terms.  The river you travel on is made from meltwater from ancient glaciers, and the canyon walls were carved out over eons. There's nothing more Icelandic than glacial whitewater rapids!
Chasing whitewater is a thrilling, bonding and bracing experience that will introduces you to Colorado's wild and scenic rivers adventures . Rafting gives travelers the opportunity to come face to face with the  natural wonders, from stunning views to untamed rock formations – not to mention the famously clear Arkansas  water itself.
A custom-designed trip led by one of senior professional guides
Travel at your speed in a private vehicle to and from the river, relax with your hand-picked travel companions.
A real escape,  your guide knows the sights to see and will have all of the details covered, leaving you to enjoy your hard-earned down time at your pace with your selected friends .
A minimum of guests may be required to operate some adventures.